I Saw Her Too With Lasers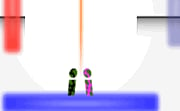 Ci dispiace, ma I Saw Her Too With Lasers non è disponibile sul tuo dispositivo mobile. Prova uno dei giochi seguenti:
Giochi Simili
I Saw Her Too With Lasers è un videogioco azione incomparabile. Gioca in questo sito, senza pagare nulla. Questo trepidante videogioco azione è stato progettato con la tecnologia Flash per funzionare correttamente in tutti i browser moderni. A questo gioco hanno giocato 103,230 persone e è stato valutato 9.1 su 10 con un totale di 1,489 voti. Ti è piaciuto giocare a questo gioco azione? Allora gioca anche ai nostri altri piattaforma o Snowball.io e Crazy Roll 3D.